Upgrade your bedroom with the ambiance of a flickering flame. Easy installation, vast features and endless designs make electric fireplaces a no brainer. They're great whether you are trying to fill a large space or cozy corner. Electric options are eco-friendly and energy efficient. They are also an affordable and safer alternative to gas or wood-burning fireplaces. You'll find the perfect option within our selection. Let's explore some of our best-selling electric units.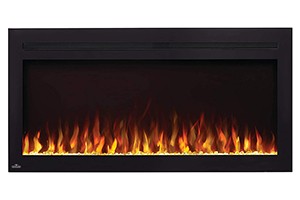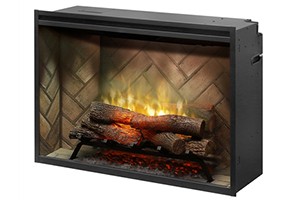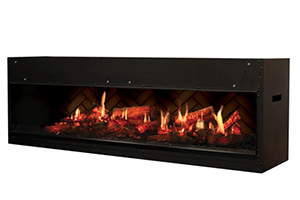 Wall Mount/Linear Fireplace
It doesn't get any easier than an electric fireplace that you can hang like a piece of art. A linear fireplace can be placed just about anywhere. If there is available wall space, you can fit one! Wall-mounted electric fireplaces can be hung, fully recessed inside the wall or partially recessed.
Napoleon Purview Linear Electric Fireplace
Napoleon's Purview features an ultra slim design and stylish appearance. Installation is a breeze with this unit. Simply plug into a 120v outlet or hardwire and you're ready to enjoy!
The convenient front touch screen panel and remote easily control all functions. Additionally, the powerful heater offers low and high heat options. Ultimately, this allows for effortless heating of up to 400 square feet. In short, Napoleon makes it simple to upgrade your bedroom with this sleek and trendy design.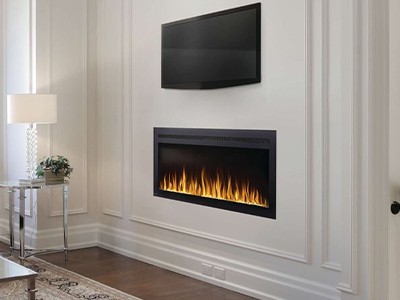 Electric Firebox
Next, let's take a look at electric fireboxes. If you enjoy the look of a traditional fireplace, this might be the option for you. A built-in electric firebox brings a realistic fire to your bedroom without taking up any floor space. Fireboxes are customizable with a range of surrounds or trims. You're sure to find an option that enhances your existing décor.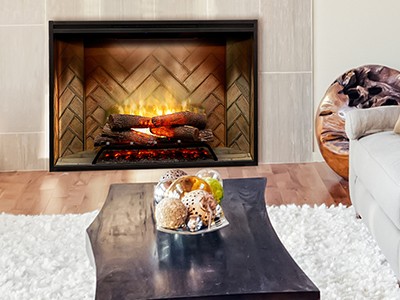 Dimplex Revillusion Electric Firebox
The Dimplex Revillusion Series offers a completely new take on traditional fireplaces. The faux flames mimic the natural charm of a wood burning fireplace. Exclusive technology creates a larger and brighter flame.
The unit offers quick and easy installation. It is designed to be direct-wired for a seamless look. Further, the Revillusion offers an ambient light sensor. This sensor automatically adjusts the firebox lighting setting. Whether day or night, the flames will always suit the room. The Dimplex Revillusion Electric Firebox allows you to enjoy a maintenance-free fireplace all year long.
Built-In Electric Fireplace
Finally, let's explore built-in fireplaces. An electric fireplace doesn't require a chimney or venting. Thus, it can be installed virtually anywhere. With minimal effort, you can enjoy this innovative design right in your bedroom. The contemporary appeal of these units are sure to be the focus of any room.
Dimplex Opti-V Duet Built-In Electric Fireplace
The Opti-V Duet redefines electric fireplaces. This built-in electric fireplace features a high-end design. As a result, it will transform your bedroom with stunning and realistic flames.
Never seen before technology delivers lifelike flames, sparks and sounds. Ultimately, this leads to a new way of viewing electric. The heat-free operation is meant to be direct-wired. Because of this, you can expect a completely seamless look. In short, Opti-V offers the ultimate visual experience.