So you've made the decision to opt for a gas log set over a traditional wood-burning fireplace. By now you've surely noticed that gas log sets offer many choices. With so many designs, sizes and control options, choosing a gas fireplace can be overwhelming. Let's break down a few key components to make this process easier.
VENTING
While they may look similar, there are many differences between vented and vent-free gas log sets. Which is better? Well, it all depends on your specific needs and preferences. Vented sets are known for their realistic flames and designed to be used in an existing fireplace. On the flip side, what a vent-free log set lacks in visual appearance, it makes up for in efficiency.
As mentioned, vented gas log sets are installed directly into an existing fireplace. They emit carbon monoxide when in use. For this reason, a chimney with an open flue is necessary. Since venting is required and the flue must remain open, some heat will naturally escape out the top. While they are more efficient than a wood-burning fireplace, vented sets tend to have high fuel consumption. Vented options are ideal for someone who values ambiance over efficiency.
Vent-free applications burn natural gas or propane and send the byproducts back into the home. Because venting does not exist with these units, heat does not escape through the chimney. This makes a ventless option over 99% efficient. Most come with an Oxygen Depletion Sensor (ODS). This is a safety feature that will shut off the unit if oxygen levels fall outside of a normal range. Vent-free sets are designed to work within a set of safety standards that are controlled by the EPA. In the event of system malfunction, gasses could potentially build up inside the home. Because of this, these units may not be legal everywhere. Ventless options tend to be less expensive than their vented counterparts and offer less restrictions on placement in your home. A vent-free gas log set is ideal for someone who values heat retention over visual appearance of the flames.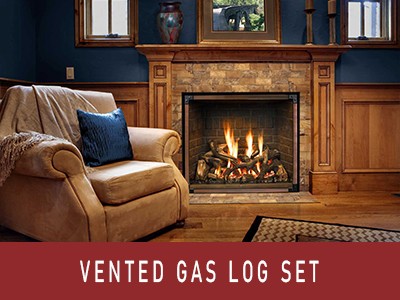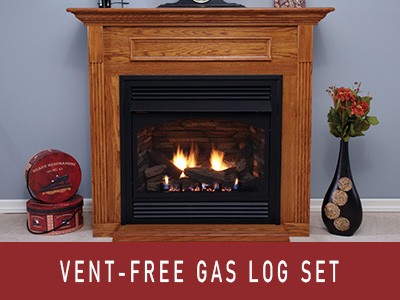 FUEL TYPE
Because there is a difference in the way natural gas and propane burn, the burner system must be specific to the type of gas you are working with. Both fuel types offer their own set of advantages. If your home is already equipped with natural gas, running a line would be an ideal option. In situations where this isn't possible, a propane tank is necessary.
From a technical standpoint, natural gas is lighter than air. This means that it will dissipate faster than propane. In the event that the manual valve is left slightly open, majority of the gas will escape through the chimney. This greatly reduces any additional hazards caused by residual gas. Because natural gas is supplied to the home, there is no need to refill a tank like you would with propane. Natural gas is more convenient and tends to be the most common choice.
In the event that natural gas is not readily available, propane can also be used. In comparison to natural gas, it is much heavier and burns hotter. It is important that the valve remains tightly closed when not in use. If left on, gas will puddle inside the fireplace and flow into the room. This creates a major fire hazard. To prevent this, propane applications require a safety pilot. Another thing to note, propane cannot be match lit. Because of this, an electronic ignition is necessary. This means that electricity is needed.
MORE OPTIONS TO CONSIDER
Now that we've nailed down venting style and fuel type, let's move on to sizing and control options.
For the perfect look and function, it is important to choose a log and burner size that best fits your fireplace. We suggest contacting our experts for assistance with this step. Before giving us a call, pull out your measuring tape and take note of the measurements found below.
Front width of your fireplace
Back width of your fireplace
Depth from the front to the back of your fireplace
And finally, the height from the top to the bottom of your fireplace
Read here for more detailed information on sizing for gas logs and burners. While choosing a burner, you will likely notice the control options. Consider whether you prefer manual operation or something remote controlled.
In addition to finding the correct log size, you'll need to make decisions on the style of logs. There are many design options available so you're sure to find one to suit your preferences. Whether you prefer the look of the charred series, or something more traditional, there are endless options available.
Finally, there is one last detail to consider: accessories. Lava rocks, fire glass and fyrebacks are all designed to elevate the experience. While lava rocks have been around for several years, fire glass is quickly becoming the most popular option. This versatile glass is stunning and available in many different colors.
Fireplace and Chimney Authority has two showrooms. Both locations display our extensive selection of gas fireplace options. We have been the go-to Fireplace & Chimney Company in the Chicagoland area for over 20 years. Contact us or come in today and talk with our expert staff. We are happy to help you choose a gas fireplace today!