At Fireplace and Chimney Authority, we are proud to offer a wide range of products and services. Over the last 30 years, our sales team and on-staff masons have assisted with thousands of fireplace refacing projects. We are the true experts on the subject. Our team understands how much of a negative impact an old, outdated fireplace can have on your home's aesthetic. We're here to help you navigate through the limitless design choices.
Natural vs Manufactured Stone Veneer
When designing your fireplace refacing project, you may ask yourself what's best – natural or manufactured stone? Both options are readily available in a vast array of shapes, colors and sizes. But, which is best for you? Let's explore the main differences between the two materials.
Natural Stone Veneer
Simply put, natural stone is the oldest and most durable material known to mankind. Unlike man-made options, natural stone is unique in its' color variation. Pitting, veining and marbling created in the stone's formation make every project distinctive. Variation is to be expected in a real stone application. Characteristics such as cracks or color variations allow you to create a fireplace refacing design that is completely yours. Fireplace and Chimney Authority is pleased to offer our customers two natural stone brands, Natural Stone Veneers and Realstone Systems. Both manufacturers have several decades of proven quality and innovation, allowing you to choose your dream look from the best selection available on the market today.
Natural Stone Veneers
Natural Stone Veneers started as a small, family owned business. Today, they pride themselves on offering environmentally friendly, beautiful and durable natural stone options.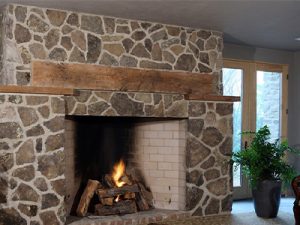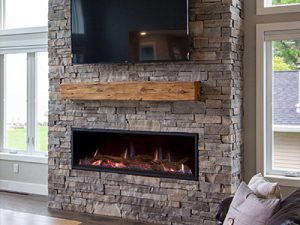 Realstone Systems
Realstone Systems is a leading supplier of natural stone solutions. Their products are well known for their innovative and superb quality.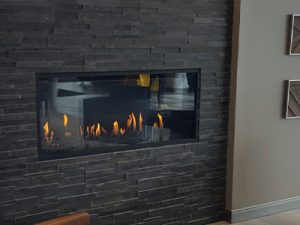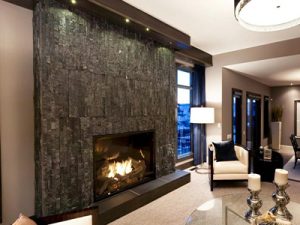 Manufactured Stone Veneer
Manufactured stone is cast with concrete material using a mold formed from actual stone. The cast stone is then painted with mineral oxides. This creates unmatched depth and color variations. Control of color, shape and size is easily obtained in comparison to real stone options. Manufactured stone is more readily available and results in a greatly reduced cost. Man-made stone is a great option for updating the look of any room, especially when cost is a concern. In an effort to offer our customers only the best selection, we are pleased to showcase Eldorado Stone and Cultured Stone. Both manufacturers have several decades of proven quality and expertise. This makes either brand perfect for your fireplace refacing project.
Eldorado Stone
For over 40 years, Eldorado Stone provides an undeniable passion for creating unique and authentic products. As a result, they continue to set standards for what high quality veneer should be.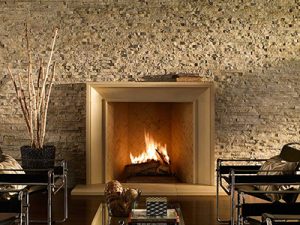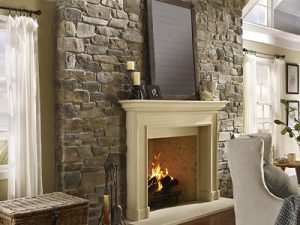 Cultured Stone
The Cultured Stone vision is led by their dedication to produce stone with beautiful aesthetics. For over 50 years, Cultured Stone offers builders and architects a high-quality product.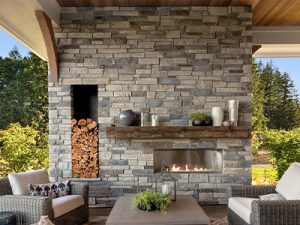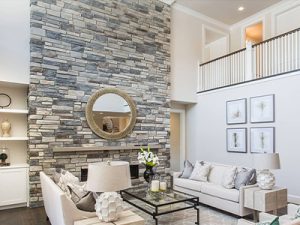 The Experts in Fireplace Refacing
Fireplace and Chimney Authority offers sales and installation of stone for fireplaces, interior walls, wet/dry bars, backsplashes, facades and outdoor kitchens. Talk with our experts today about your project.
Request an appointment online or by calling (630) 279-8500. Or drop by one of our showrooms to speak with our helpful staff.