Fall has arrived! It's time to head outside and relax with the ambiance of a roaring fire on a crisp, cool night. Grab your favorite sweater and head outdoors to experience the autumn air, early nightfall and falling leaves. While there are several options on the market, we've highlighted a few of our favorites.
Let's take a look at a few of the best-selling fire pits and fire tables for this fall.
Best Traditional Fire Pits
Jatex International Gobi Desert Corten Steel Fire Pit
The Corten Steel fire pit will be the focal point of your outdoor entertaining area. Made from Corten Weathered Steel, the firepit is extremely durable and weather resistant. This distinct type of steel is naturally oxidizing. In other words, the finish and appearance will change slightly as the years pass. This gives way to a completely unique look. It will reach its peak patina within 2-4 years and then remain in that state with little change. Importantly, the bowl itself features ample space for wood. This allows you to enjoy small or large fires. Available in three sizes, you're sure to find one that fits your space perfectly.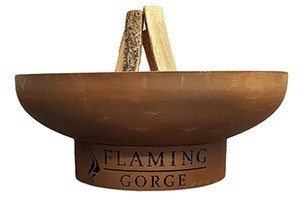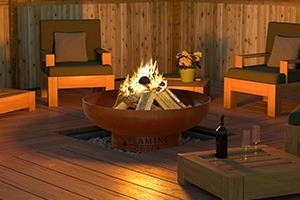 Best Gas Patio Fire Table
Napoleon Patioflame Tables
Napoleon Patioflame tables are designed to brighten the look of your outdoor space. They are available in multiple styles and sizes. The options range from beachy to traditional and rustic. Constructed from rust-resistant aluminum, these tables are light-weight and durable. Not only do Patioflame tables offer a beautiful appearance, but also include important safety features. A thermocouple valve cuts the gas if the flame is interrupted. For example, if a gust of wind blows out the flame, the gas will shut off. This prevents any potential hazards and ensures gas won't be wasted.
Additionally, the expertly-crafted tables easily hide a propane tank for a seamless appearance. In contrast to typical wood-burning fire pits, this option is mess free. Furthermore, Napoleon Patioflame tables require little to no upkeep. Set your drink down, watch the leaves fall and relax in comfort.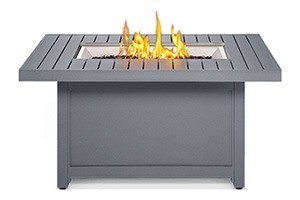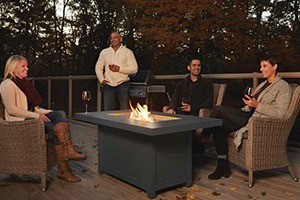 Best Dining Fire Table
American Fyre Design Fiesta Dining Fire Table
Outdoor dining fire tables make for the ultimate fall patio experience. American Fyre Design's Fiesta Dining Table creates the perfect atmosphere. Imagine sitting around this beautiful table with friends, enjoying a meal or cocktails. All while keeping warm from the evening chill. Fuel options for this fire table include natural gas or a self-contained propane tank. Moreover, this table is handcrafted from GFRC. GFRC, or glass fiber reinforced concrete, is highly durable and requires very little maintenance.
Available in multiple color options, the table is fully customizable. There are many accessories available, including stones, lava rocks or glass media. River Rock Fyre Stones provide a natural and earthy look. Or opt for a pop of color with trendy glass media options. The choices are endless! Even though this is one of our favorites for fall, you're sure to enjoy American Fyre Design's Fiesta Dining Table all year long.