Benefits
A fireplace screen serves as a barrier between your fireplace and the room. Typically, the frame is made of metal with a mesh panel. They provide an extra layer of protection from either the hot glass of a gas fireplace or the burning, sparking logs from a wood-burning fireplace. Fireplace screens are also a relatively inexpensive way to update the look and décor of your hearth. Available in a variety of styles and finishes, you're sure to find the perfect option.
Choosing the Right Option
Screens vary in size, so be sure to measure the height and width of your fireplace opening to ensure a proper fit. There are many styles available such as single panel, single panel with access doors or tri-panel screens. Choosing the best option will depend on multiple factors, including the type of fireplace you own.
Wood-Burning Fireplaces
For wood-burning fireplaces, a flat fireplace screen that is completely flush with the opening is the safest choice. This prevents sparks from popping out the top, sides or bottom of the opening. If you need access to the fire while it is burning, choose a screen with doors. This will provide easy access when tending to the fire without having to fully remove the screen.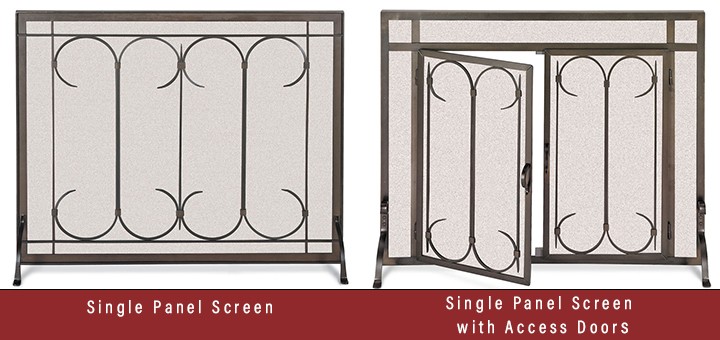 Gas Fireplaces
While screens are not a necessity for gas-burning fireplaces, they provide additional safety and aesthetics. Opting for a flat or tri-panel screen can help keep curious children or pets away from burning flames or hot glass. Moreover, a safety screen can prevent flammable objects from getting too close and accidentally catching fire.
Safety Precautions
No matter how experienced the user, owning a fireplace comes with safety risks. Many of these risks can be greatly reduced by using an appropriately sized fireplace screen. Additionally, it is recommended to use heat-protective gloves when handling a fireplace screen. Fireplace screens can remain hot to the touch long after a fire has gone out. While a screen can reduce the chances of a potentially hazardous situation, a fire should still never be left unattended. It is a best practice to always supervise children and pets near any fireplaces that are or have been recently in use.
With the appropriate fireplace screen and safety precautions, you can keep your home and loved ones safe.