What is a Chimney Crown?
A chimney crown is a masonry roof that is made to cover the top of your chimney. It is important because it helps prevent water from seeping into your chimney. Having a secure Chimney Crown keeps your mortar joints and the flue safe. Water seeping through would be a major issue, therefore causing damage to the brickwork and masonry that can lead to a collapse. You don't want to deal with some costly chimney repairs just because of a cracked and weak chimney crown. One way to fix a crown is to tear it down and pour a new one, which can be expensive. However, that is where CrownCoat comes into play and is known as the best solution.
CrownCoat
CrownCoat is a flexible waterproof sealant that is applied over the entire chimney crown. When it is applied professionally it will stop further water intrusion through the crown. You won't have to worry about severe weather for CrownCoat can withstand it because of its formula. The formula is made up of unique and quick drying water-based technology that is long lasting, making it the best solution. It only requires a thin application over the Chimney Crown which prevents cracking so you won't have to worry about chimney leaks. Once the crown is sealed with CrownCoat, it helps fill in those existing cracks. CrownCoat ensures that the coat is durable that they include a 15 year warranty!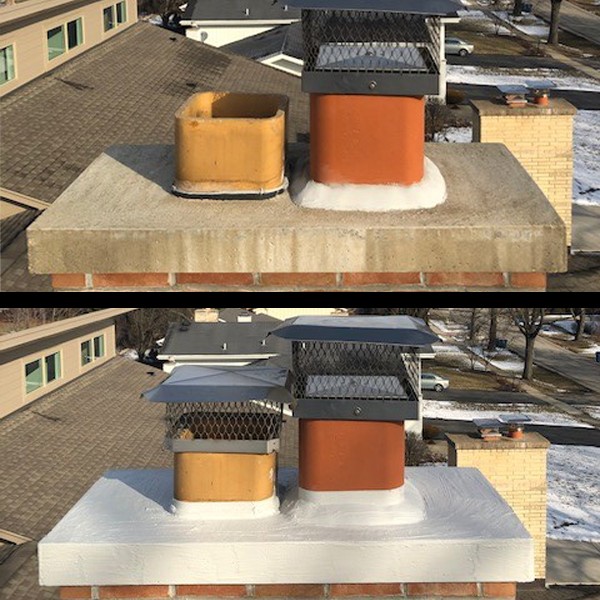 Call us Today!
We are Chicagoland's number one choice for diagnosing why your fireplace chimney or your furnace chimney might be bringing water into your home. The Fireplace & Chimney Authority has repaired many chimney crowns throughout the Chicago land area. Our technicians are equipped and trained and have worked on many different kinds of chimneys. Serving our customers since 1998 and with 100 years combined industry experience we make sure our customers are satisfied with our work.