REAL FYRE | RH PETERSON HISTORY
While enjoying dinner one night in Pasadena, California, Robert Peterson watched as the staff incessantly fussed over the wood burning fireplace. Robert looked on throughout the evening as they continuously worked to keep the fire ablaze. This immediately sparked an idea in the engineer's head. He went back to his workshop to try and solve this ongoing problem. Peterson was able to create a solution that would eventually become gas logs as we know them today.
Mr. Peterson proudly took his prototype back to the restaurant to demonstrate its ease and functionality. Before long, his creations were found as focal points in restaurants and lounges across Southern California. Robert quickly opened a small shop in Eagle Rock, California and began producing gas log sets.
One of the shop's first employees, Vince Jankowski was known as a skilled wood worker. Vince looked to nature for inspiration. He quickly innovated the idea of individually hand-crafted logs. Vince's expertise paired with Peterson's vision gave way to their original Golden Oak Log Set. This log set quickly became the standard of the industry. Soon after, these gas log creations were sold under the brand Real Fyre Gas Logs.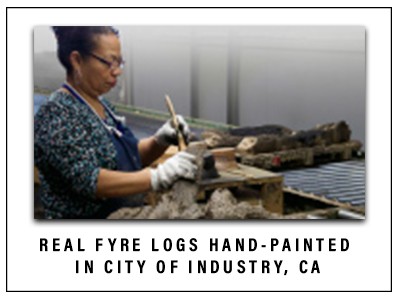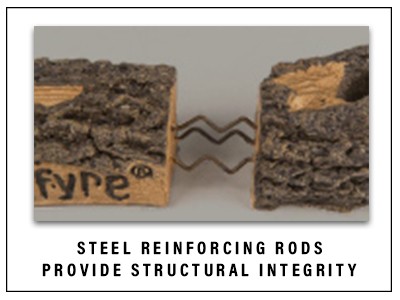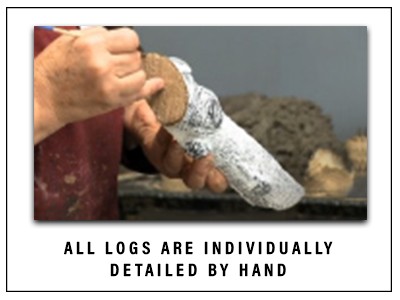 THE BRAND TODAY
Since 1949, Real Fyre continues to manufacture the most beautiful and best-made gas log sets. To this day, many Real Fyre log sets are still hand-painted. Aside from being the most realistic gas logs on the market, let's explore what makes the company stand apart.
Better Flow Rate – allows for a superior texture and greater overall strength
Refractory Ceramic Construction – gives logs the ability to withstand higher temperatures for longer periods of time (compared to cement construction)
Lower Iron Content – means logs are less susceptible to oxidation, which may change the color over time
Steel Reinforcing Rods – rods throughout each log provide higher structural integrity
Higher Compressive Strength – allows for finer surface detailing
Currently, Real Fyre offers more than 40 original styles of gas log sets. Additionally, for customers seeking a more contemporary look, the brand also offers a wide range of fire glass designs.
"What we build, we build for people who value quality and integrity as highly as we do. That's why no one in the industry puts more artistry or engineering into the process of creating your gas fireplace products. That same unmatched attention for detail and performance is also evident in our business relationships and our customer service."
-RH Peterson Co.
Visit our Showroom today to experience the Real Fyre difference!