We rarely give much thought to the mortar on our home or property, but crumbling mortar means that your structure is deteriorating right before your eyes…slowly. No need to worry… Fireplace & Chimney Authority can replace crumbling mortar and or tuckpointing by performing repointing (mortar repair). We carefully and thoroughly assess your building's unique situation and get to work carefully removing deteriorated mortar from the joints. Next, we replace the old mortar with new, durable mortar that's color-matched and appropriate for your structure. If this work is done by folks that are not experienced, trained masons, you can end up with shoddy work that detracts from the appearance of your building, or worse, that damages your structure. Trust your home, business, rental property or historical landmark to the pros at Fireplace & Chimney Authority.
Color or texture is not an issue, we will match the color and texture to as close as possible.
Tuck Pointing is the removal of cracked or loose mortar in brick, stone or concrete blocks and it being replaced will help it be resoted, protected and bring it back to it's original state.
Mortar is the material that binds the brick ad stone together. Chicagoland weather is known for conditions that are uncertain. When situations like these come along, it is important for persistant maintanance. As winter season comes along, water that is absorbed into the mortar can freeze under cold conditions. Inproper Maintanance can lead to loose bricks, stone and concrete blocks.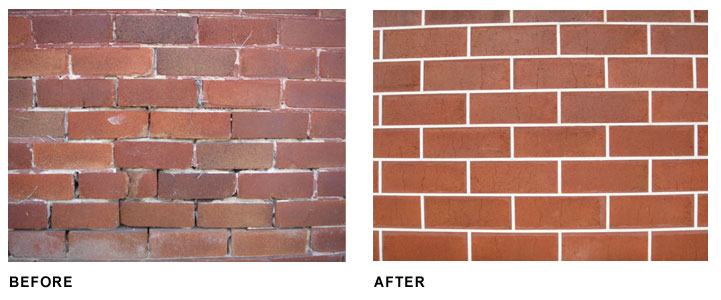 Fireplace & Chimney Authority has over 100 years of combined industry experience. We are the Midwest's largest full-service chimney company from building, restoration, installation of gas or wood-burning appliances and chimney cleaning. We have two conveniently located showrooms, Elmhurst and Lisle, for you to browse and find the perfect fireplace, stove or barbecue grill for your family to enjoy.
We look forward to working with you for all of your cleaning needs. Remember that all of our work is Satisfaction Guaranteed.