Bristol Chimney Cleaning by Fireplace & Chimney Authority
The Midwest's Largest, Most Respected Fireplace and Chimney Company Proudly Serving Bristol and Kendall County and the surrounding areas.
Fireplace & Chimney Authority has over 100 years of combined industry experience. We are the Midwest's largest full-service chimney company from building, restoration, installation of gas or wood-burning appliances and chimney cleaning. Recognized throughout Bristol and the Chicagoland area for our superior selection of chimney products and unmatched service, Fireplace & Chimney Authority approaches every job as if it were in a family member's home. In fact, that is exactly how we feel about our customers. Our customers Are our family.
With two centrally located facilities, we service eight counties routinely and have been known to "go where we are needed" when necessary. All of our chimney technicians are fully licensed and certified, and we only use the most innovative and environmentally-friendly chimney products for your home. As Bristol's experts in overall chimney restoration, minor chimney repairs, periodic chimney maintenance, and initial chimney installation, Fireplace & Chimney Authority will be happy to assist you in whatever your chimney needs might be.
We provide premium chimney liners, chimney protective covers, and chimney screens for any size chimney and our chimney sweeps are among the most skilled and experienced in the business. Our chimney technicians will work with you to guarantee that you are completely satisfied with your new or renovated chimney.
Bristol Chimney Cleaning
Our highly qualified chimney technicians will come to your home or business in Bristol and are trained to do a thorough visual inspection to assess and determine the appropriate course of action for your chimney needs. Our innovative equipment is specially designed for each type of chimney to provide high quality service from a standard large masonry fireplace to a metal factory built chimney.
Using special rods, chimney brushes, hand tools and a high powered vacuum, Fireplace and Chimney Authority can effectively remove the soot build up and flaky creosote deposits. Most important, our technicians are instructed to keep your home tidy by taking steps like laying drop cloths and covering areas with tarps to ensure that no dust escapes during the process.
Bristol Chimney Relining
Damage and deterioration to your chimney can happen for a number of reasons… lightening, severe weather, chimney fire or common settling. A worn out chimney liner can permit smoke or creosote to leak into the chimney walls. It is likely that if your home is older, it could be that it was constructed without chimney liners or you are simply in need of an upgrade because of deterioration over time. Chimney relining is typically a cost effective way to repair a damaged chimney. Call the chimney experts today so we can help, we have a wide variety of liner solutions including stainless steel, aluminum and flue tiles.
Bristol Chimney Covers and Dampers
You can keep energy in your home by creating a tight seal at the top of your chimney. Using a chimney damper stops cold air from coming down the flue and wasting dollars by letting warm air escape. Our technicians are trained to determine the appropriate chimney damper size for the most effective seal and will help you choose from the many style options we have available.
Bristol Masonry Construction
Masonry New Construction
We're the expert authorities in the business of masonry, creating long-lasting, beautiful dream masonry additions at competitive prices. We have years of experience with all levels of masonry projects so we can provide expert advice on what works and what doesn't. Whether your vision is to build a brick or stone fireplace, chimney, walkway or a barbeque, we can help with any project big or small. Our hardworking, dependable team of trained masonry technicians prides itself on quality workmanship and craftsmanship that will endure the test of time.
Quality and Durability
Our commitment to only use the highest quality products and special focus on minute details ensures durable masonry construction that you can trust. Using state-of-the-art equipment by a team of experts in their craft makes sure that your project runs smoothly and progresses on time. Our primary focus is 100% customer satisfaction, always dedicated to understanding and exceeding our customer's expectations. From the initial phases of the project through the final phases, we work closely together to be sure we are meeting your needs and you are happy with the progress.
Bristol Masonry Restoration
Whether you are looking for tuck pointing or chimney rebuilding, Fireplace and Chimney Authority specializes in a wide range of restoration services.
Chimney Restoration & Rebuilding
Constant exposure to harsh outdoor elements can lead to deterioration of bricks and mortar or the entire chimney over time. Our skilled, experienced masons can help identify the issue and determine the best solution.
Damper Repair
A damper that works properly is critical to keep heat from escaping up your chimney. It's important to repair your damper now to avoid losing any additional money on wasted heat.
Firebox Repair
If you notice loose or cracked bricks or eroded mortar joints, it is likely in time for repair. We can help restore this integral part to your fireplace system to get it functioning like brand new.
Flaking Bricks
The chimney bricks may flake or eventually fall off due to wear and tear. We can help stop the deterioration and restore bricks, ultimately avoiding more excessive repairs later.
Flashing Repairs
The flashing needs to work properly to prevent water seepage into the house. When sections of the flashing have lifted, our skilled technicians input a flashing seal to repair and prevent any future water damage in your home.
Mortar Crown Repair
The Crown, a cement slab located at the top of the chimney can deteriorate over the years. We can treat minor crown repairs or completely rebuild the crown if necessary.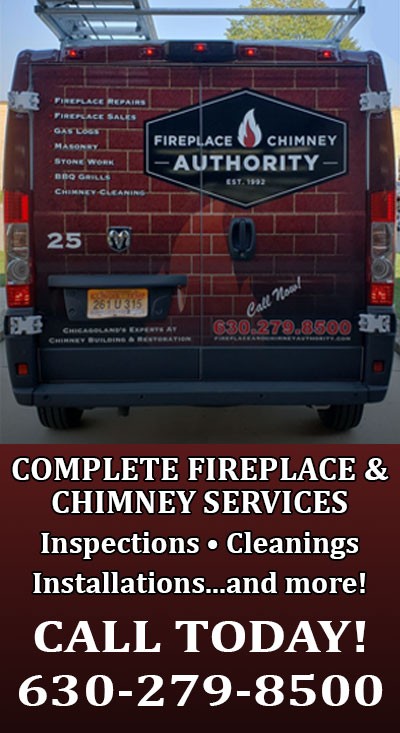 Proudly Serving the following counties: Cook | DuPage | Grundy | Kane | Kankakee | Lake | McHenry | Will