FullView Decor Gas Fireplace Insert
The Art of Fire
Wood burning fireplaces are messy, drafty, inconvenient and costly to operate. Breathe life and warmth into the heart of your home with a high efficiency, restoration-quality Mendota gas fireplace insert. Fire becomes art in the Mendota Full View Modern gas fireplace inserts. Stunning aesthetics are matched by a thoroughly modern point of view on efficiency—replacing drafty, messy and inconvenient wood burning fires with today's high-efficiency green technology. Mendota Full View Modern fireplaces and inserts transform the traditional fireplace into an elegant, sophisticated art form. Choose from a wide assortment of panoramic panels and stylish frames to make this fireplace your own.
Visit our showroom today and speak with one of our knowledgable sales staff to begin designing "Your Fireplace".
Compare sizes to see what's right for your home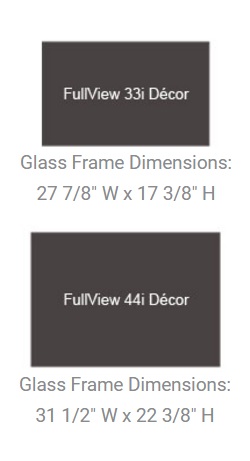 FV44i Décor
This Décor fireplace insert becomes whatever you want it to be—from simple and understated to bold and dramatic. No matter what look you choose, it will always be a smart alternative to your existing woodburning fireplace. With up to 29,000 BTUH operating at an amazing 77.9% efficiency, you'll handle cool days and chilly evenings in style.
FV33i Décor
With a viewing area that's 30% larger than comparably sized insert designs in a footprint that fits comfortably in smaller fireplace openings, the FV33i Décor may be the perfect fireplace insert for you. Despite its compact size, this fireplace insert is big on features, including Mendota's high-efficiency BurnGreen™ system, heat output of 25,000 to 13,500 BTUH—even a convenient remote control.
– Flames leap from a base of natural river rock, glass fire stones, decorative woods and more
– A choice of panoramic interior linings that expand and amplify the nuances of the fire
– Combines today's high-efficiency green technology with century-old Mendota craftsmanship
– Easily customized with a choice of fronts, doors, fire base and interior linings
– Installs into existing masonry or factory built fireplaces
– A convenient remote control is included
– Lifetime Limited Warranty
Fire Base