Big Green Egg XXLarge Portable Grill
Big Green Egg XXLarge Portable Grill
The Biggest Green Egg of them all, the unrivaled XXLarge EGG can easily handle your family reunion or cookouts with large groups – and is more than large enough to satisfy restaurant and catering needs. You'll need to gather a crowd to tackle all of the ribs, steaks and burgers this EGG can handle … all at once! You can even roast a suckling pig … explore all the culinary possibilities with the new XXL!
Big Green Egg is the world's largest producer and international distributor of the highest-quality ceramic kamado-style charcoal grill. When you buy an EGG, you know your investment is protected by a successful, experienced company with a worldwide reputation for best-in-class products and unmatched customer service. We provide you with confidence, knowing that we have been standing behind our products for over four decades!
As Big Green Egg has evolved over the years, significant changes have been made to keep it miles ahead of anything else on the market – state-of-the-art ceramics, a wide range of easily adjusted cooking temperatures, a stainless steel cooking grid and a permanent porcelain glaze to preserve our signature green color. A team of research and development specialists are continuously looking for new ways to make Big Green Egg even better.
From Founder Ed Fisher's original model, the business has grown to include seven sizes of the EGG, and hundreds of accessories and related products designed to always make Big Green Egg a cooking experience that is fun and entertaining!
Simple to Start
The Big Green Egg reaches perfect cooking temperature and is ready to use in just minutes. Our 100% lump charcoal is made in the USA from only the best cuts of natural oak and hickory for superb performance and results. Lighting the charcoal is always quick and easy, as the design of the Big Green Egg allows air flow to circulate efficiently. Use our natural charcoal starter or an electric starter … and never buy lighter fluid again!
How does the egg work?
The Big Green Egg is a blend of ancient tradition, modern technology, and proprietary processes, resulting in a far superior product that is stronger, more durable and provides better heat insulation than any other outdoor cooker on the market. Thats how the Big Green Egg works so efficiently!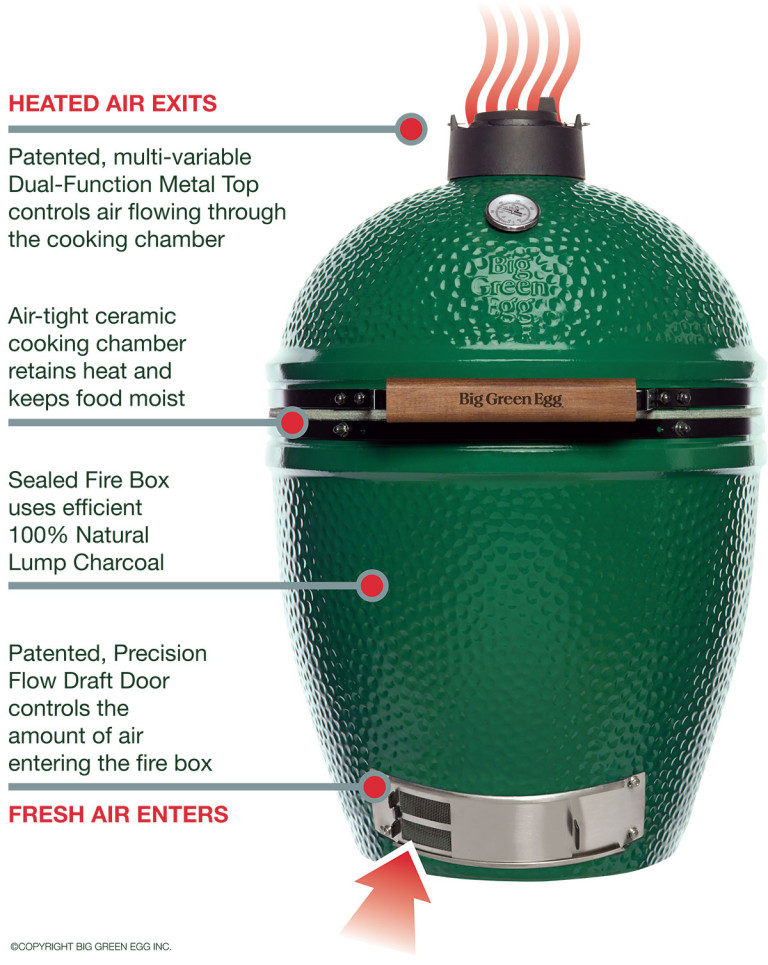 Precise Temperature Control
Grill, smoke and bake on your EGG at exact temperatures by easily adjusting the patented air flow systems. You have total control over temperature at your fingertips, maintaining accuracy within a few degrees! The Made in USA temperature gauge provides precise readings to 750°F/ 400°C. Many indoor ovens cannot match the accuracy of the EGG's temperature control!
Safer to Use
The Big Green Egg is extremely safe to use as the ceramic surface doesn't get as hot as a metal grill, and the heat source is protected within a ceramic fire box inside the base.
Easy Clean Up
The Big Green Egg features a professional grade stainless steel cooking grid and an elegant green exterior with a lifetime glaze that maintains its good looks and wipes clean easily without chemical cleaners. Inside, residual heat burns away any grease build-up – just like a self-cleaning oven – and ash build-up is minimal.
Patented Technology
Among many features that make the Big Green Egg by far the best cooking device of its kind are the patented components and state-of-the-art ceramic technologies that provide unrivaled thermal properties, material quality and cooking performance! The materials used in each and every EGG have performed flawlessly in extreme conditions for decades, and many EGGs are passed down to the next generation. The Big Green Egg comes with a Best-In-Class limited lifetime warranty. It's all about quality and performance.
Specifications
Click image to enlarge

XXLarge

– Grid Diameter: 29 in / 74 cm

– Cooking Area: 672 sq in / 4336 sq cm

– Weight: 424 lbs / 192 kgs

– 35-40 burgers, 14-16 whole chickens, 18-20 steaks, 20 mouth-watering racks of rib vertically, or 1 perfectly crisp suckling pig
The XXLarge EGG can cook: 35-40 burgers, 14-16 whole chickens, 18-20 steaks, 20 mouth-watering racks of rib vertically, or 1 perfectly crisp suckling pig
Most popular EGGcessories: convEGGtor®, Table Nest, EGG Mates – Composite 3 Slat, 100% Natural Lump Charcoal, Pizza & Baking Stones, Temperature Control – DigiQ, Mitts – EGGmitt® BBQ Glove
Available only at our Lisle store. Visit today and speak with one of our knowledgeable sales staff members to find the right grill and accessories for you.